20
people 👁️ing this randomly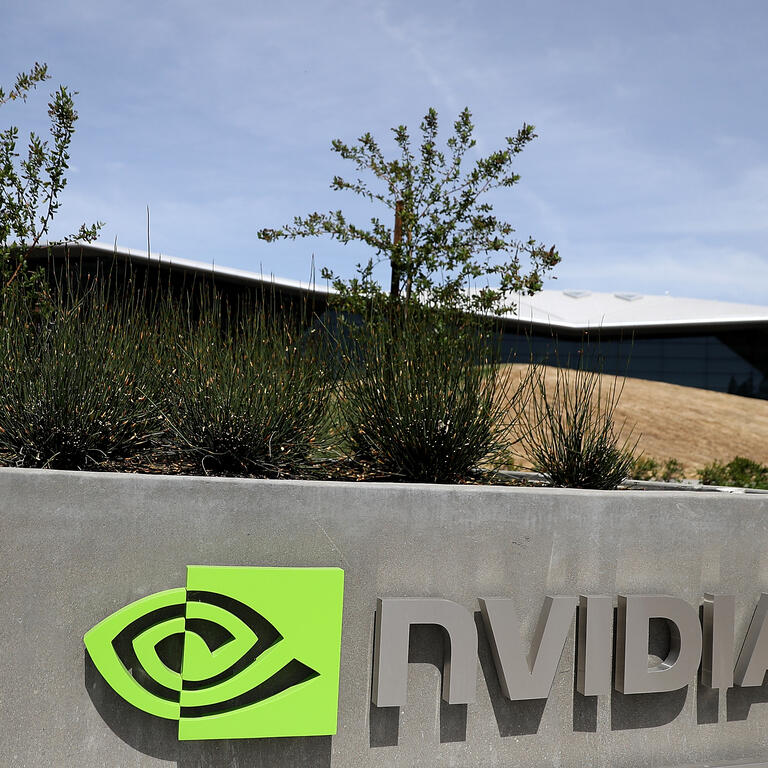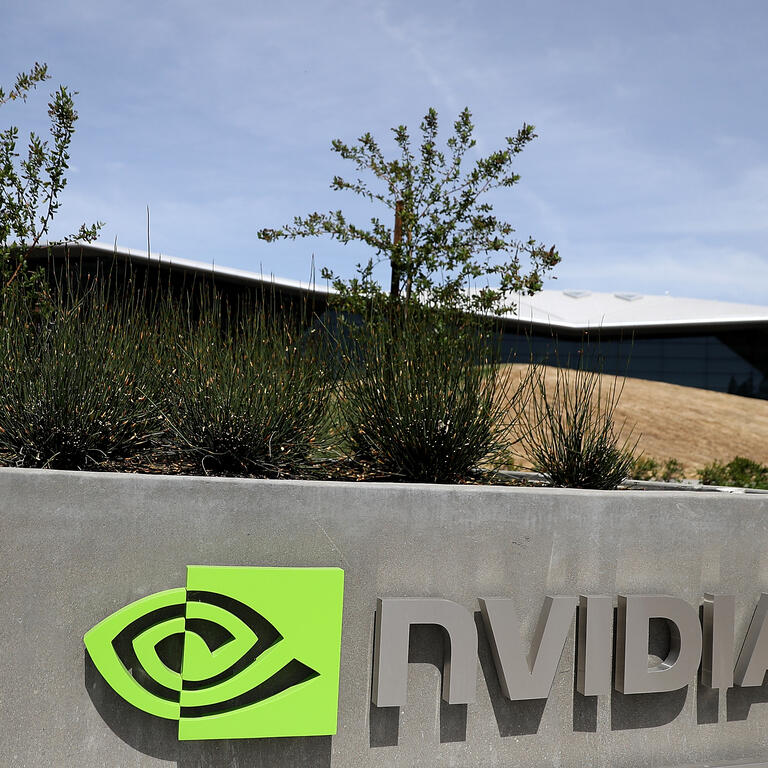 Justin Sullivan/Getty Images News
Investment Thesis
NVIDIA Corporation (NVDA) is one of the leading full-stack AI tech companies in our portfolio. Through CEO Jensen Huang's incredible leadership, the company is a leader in multiple fields. It has also built on its discrete GPU (dGPU) hardware leadership with its software stack through NVIDIA AI Enterprise. The company has also created the leading engine for metaverse developers, as NVIDIA aims to power the future of the next-gen computing platform. Moreover, NVIDIA's massive leadership in autonomous driving has also made it a critical player powering many leading EV makers and robotaxi operators' autonomous driving platforms.
Bearish investors have often focused on NVIDIA's current valuation. NVDA stock's valuation is undoubtedly premium, trading at an EV/NTM EBITDA of 59.2x (peers median: 14x). Nevertheless, we think these investors may not have considered the massive market opportunities that NVDA has in the segments we mentioned earlier. Given that NVDA has such a clear and long runway ahead of it, it's more important to look well ahead into the next five to ten years. It would help us avoid looking at NVDA's expensive valuation through a narrow lens and deem it significantly overvalued.
This article will discuss the opportunities ahead for NVIDIA and address its runway to 2025.
Software Opportunities will Create Massive Revenue Streams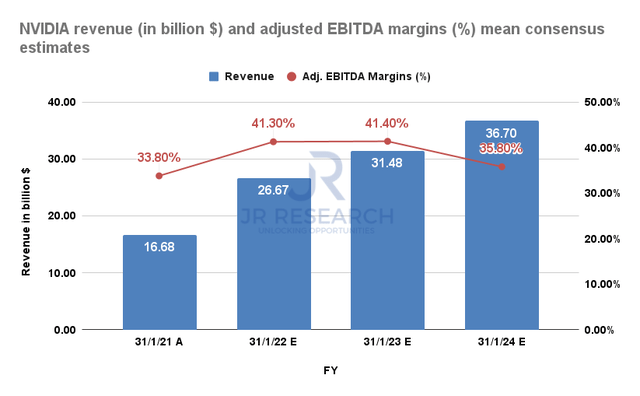 NVIDIA revenue and adjusted EBITDA margins mean consensus estimates. Data source: S&P Capital IQ
One of the central arguments against NVIDIA is its slowing revenue growth moving forward. Readers can observe that NVIDIA's revenue is estimated to increase at a CAGR of 30.1% through FY24. However, its YoY revenue growth is projected to reach 60% this year. Thus, it is a significant slowdown in growth over the next two years. Despite that, NVDA could still gain substantial operating leverage as it scales.
Notwithstanding the topline growth deceleration, its adjusted EBITDA margin is estimated to reach 41.4% in FY23, against just 33.8% in FY21. Therefore, we think it's critical for investors not to focus solely on NVDA's topline growth slowdown. Instead, they should also pay attention to its leverage.
We believe that its growth opportunities in the metaverse through its software stack will be critical in driving its profitability. Besides the massive TAM increase, the bottom line drivers could have been missed by bearish investors.
NVIDIA's hardware revenues mainly drive its EBITDA profitability currently. However, we believe that the company is in the early innings of capitalizing on the drivers from its software stack. We highlighted in a previous article that NVIDIA's software stack could add billions of dollars to its topline. Its AI Enterprise stack opportunity is estimated to be worth $5B. Moreover, we have not included the potential revenue from its metaverse engine, the NVIDIA Omniverse. The exact revenue opportunities from its software are hard to define. And most of them have yet to find their way to the company's topline. Despite that, we believe that these opportunities are massive, even just from its AI Enterprise stack.
Importantly, NVIDIA Omniverse is probably an even more significant opportunity. The argument is straightforward. NVIDIA "layers" its Omniverse strategy on top of its hardware stack. Moreover, the metaverse is not just limited to Roblox (RBLX), Apple (AAPL), or Meta Platforms (FB). Cathy Hackl, Chief Metaverse Officer and CEO of Futures Intelligence Group emphasized: "Every brand and company will need a metaverse strategy." eMarketer reminded us that next year, "tech firms and brands (will) put those plans into action. We'll get a glimpse into how the metaverse will look and function."
Therefore, we think NVDA has astutely positioned its formidable accelerated computing hardware stack to help these companies leverage its Omniverse engine. CEO Jensen Huang highlighted (edited):
Omniverse is an engine for simulating the virtual world. There'll be many, many Omniverse worlds. Omniverse is designed to be able to create and simulate those worlds at a very large scale. We're in the business of technology infrastructure. So Omniverse is the engine, the algorithms, the mathematics, the computer graphics, the computer systems, the hardware, the system software. That's the focus of Omniverse. (DigiTimes)
NVIDIA has created a symbiotic relationship with its software strategy by leveraging its hardware stack. When we think of full-stack, it's imperative that we consider this relationship. NVIDIA's software stack doesn't exist in a silo. The success of its hardware business underpins it. And, it's a highly successful hardware business with tremendous pricing power and adoption. Now, NVIDIA is taking many steps further by ensuring Omniverse becomes the core engine that companies use to develop their virtual worlds. But, why Omniverse? Surely there will be competing technologies with NVIDIA, who are also vying to be "the metaverse engine."
It's also relatively simple. Huang has mentioned it at GTC, but maybe the bears haven't caught on. NVIDIA Omniverse will be so advanced and profound that it can even help model climate change for the entire Earth. NVIDIA will be building "the world's most powerful AI supercomputer dedicated to predicting climate change." Therefore, NVIDIA aims to model a digital twin of the Earth. NVDA has not gotten there yet. But Huang believes that it will cross the line eventually. Huang emphasized (edited):
We're going to go build that digital twin of the Earth. It's going to be gigantic. This is going to be the largest AI supercomputer on the planet. All the technologies we've invented up to this moment are needed to make Earth-2 possible. I can't imagine a greater or more important use. The simulation would be so precise it would need meter-level accuracy. If necessary, Nvidia would spend the money to offset the computing power used to run the simulation. And, if we build the digital twin of the Earth, we will get the metaverse for free. (VentureBeat)
We think Huang aptly summed up the power of NVIDIA's amazing technology stack. Moreover, readers can imagine the incredible opportunity that NVDA would generate if it could build that digital twin of the Earth. That would give creators the ability to develop their virtual worlds based on NVIDIA's success in the Omniverse. Imagine the potential ubiquity of Omniverse as the go-to engine for many creators and companies building their virtual worlds. We cannot further underscore the tremendous monetization opportunities from its full-stack (hardware and software). And, we think we cannot easily model the estimates for NVDA's potential monetization since they are so novel. Even NVDA CFO Colette Kress stressed that she couldn't accurately forecast how large NVDA's TAM can become currently. But, she emphasized that "there are big markets out there for us."
So, is NVDA Stock a Buy Now?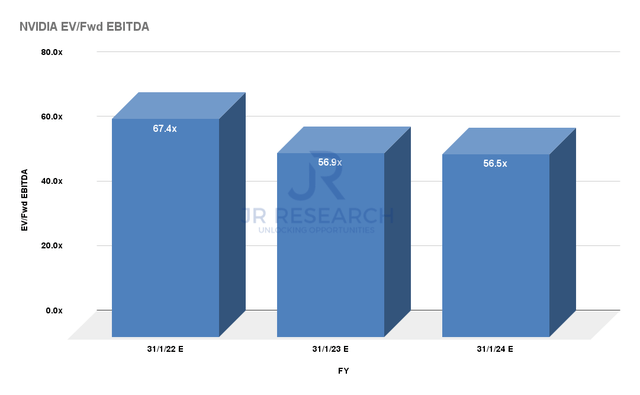 NVIDIA EV/Fwd EBITDA. Data source: S&P Capital IQ
As mentioned earlier, NVIDIA stock is trading at an EV/NTM EBITDA of 59.2x, well above its 3Y mean of 43.9x. Moreover, its peers' median is just 14x, therefore putting NVDA stock in "significantly overvalued" territory in comparison.
However, we believe that simply comparing NVDA stock's valuation against its peers would not have done the company justice. We believe that the current consensus estimates have not meaningfully accounted for its metaverse opportunity. Therefore, we believe the stock could be further re-rated when the revenue runway becomes clearer. With it, NVDA stock's fair value estimates could be further increased.
NVDA stock is currently trading above our fair value estimates, but not as significant as some bears have prognosticated. However, if you are more conservative and prefer to wait for a "less risky" entry point, you can.
But, if you have a firm conviction about CEO Jensen Huang & Co.'s execution and technological roadmap, then adding at the current price level doesn't seem unreasonable too.
We believe that NVIDIA has proven its mettle as one of the top AI tech companies globally. Moreover, it's only just getting started with its metaverse opportunity. While we can't tell you exactly where the stock will be in 2025, we believe it will continue to outperform the market in the next few years.
Therefore, we revise our rating on NVDA stock to Buy.